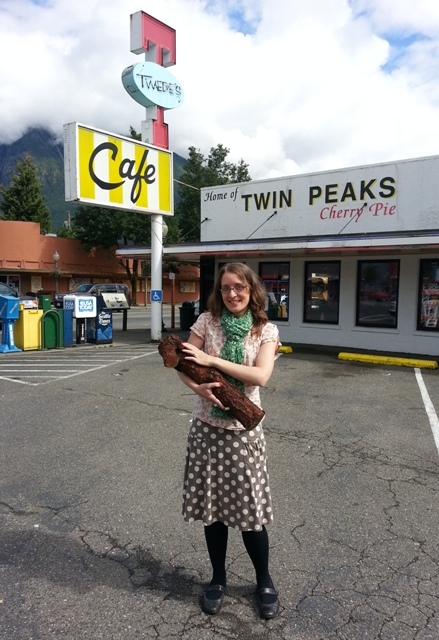 On my first full day in America, I decided to give my loaner car (a pretty red Jag!) a test run. So, my baby sister and I hopped in the rig and hit the freeway for North Bend with a mission: lunch at Taco Time and a fun picture for a couple of friends.
After stopping off for our lovely lunch, we made our way to North Bend's town centre, in search of the "Twin Peaks Cafe"—a diner in the fictional town of Twin Peaks where the TV show "Twin Peaks" was filmed. My photo prop had been selected earlier in the day, so all we needed was the backdrop!
Upon arriving at our destination, I pulled my log out of the car whilst Royann set up the shot.
As we were getting ready to snap a photo, another car was leaving. The driver stopped and rolled down her window to remark at what a great idea the photo was—and noted that I was dressed for it and everything.
When I explained that I wasn't dressed special, and that my outfit was just my every-day wear, she laughed—as did her three passengers. They found the entire thing so funny and wanted to take a picture of me for themselves, too.
Apparently, the Log Lady is not only mad and carries around a log that she believes "knows things" but she also has an impeccable sense of fashion. Why else would people think I was dressed like her?
Anyhow, it was a funny little moment in my day. Though I don't know if I should be flattered or insulted about a group of strangers thinking I was dressed as I was all as part of a funny photo.